Bookings | Upcoming Events  | Information
Discussions at this high-level session will cover connected smart homes and buildings innovation - 3 killer applications of energy management, security and assisted living: unlocking the market for innovators, their funding challenges and the relationships with large players in smart homes markets. This is a conference session and pleasant roundtable dinner at King's where selected startups and growth companies will meet key markets.
Who'll be there? Join AlertMe, Sentec, EON, Cambridge Silicon Radio, Honeywell, Iotic Labs, Hitachi Europe, Cambridge Investment Reserch, Page White, Acacia Capital, analysts, experts and decision-makers seeking to discuss smart homes segments eHealth, Security and Energy Management in this beautiful setting with fine dining.
Evening of Inspiring Keynotes (3 Nov) before dinner roundtable
Smart home killer applications -Pilgrim Beart, Founder, AlertMe
Panel with Moderator 
Evening Keynote Session 6-8pm (places still bookable) followed by Roundtable Dinner (places still bookable).
3 killer apps for the smart home
Talk I: energy management
Talk II: eHealth 
Talk III: security 
Panel IV: a discussion of the 3 killer apps presented
Dinner Roundtable networking and continued informal discussion
How to engage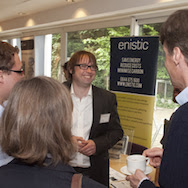 Use this evening event and dinner to develop new business and awareness of your products or services in a range of ways from on stage to showcase presence to excellent networking.
Media partners
SEHTA
SH & BA
Cullen Associates
Cambridge Network
Cambridge Wireless
Connected Cambridge
Connected Oxford
Conference Alerts
Networking: Network with industry innovators to create and develop critical new business collaborations and to exchange knowledge
Minimize risk by keeping up with technology developments – where is the industry going?
Please book here for: Smart Systems Summit Evening Session with Roundtable Dinner Place - 3rd November 6pm-9:30pm (Price £247 plus VAT reduced to £196 for specified concessions)