Now in its 21st year, Cambridge Network continues to bring people together to meet, share ideas and collaborate for shared success. The Network's unparalleled role in connecting people was highlighted by two events last week – its annual Founders' Summer Party and the latest in its popular series of recruitment fairs.
More than 150 Founder level members and guests gathered at Newnham College for dinner on Thursday (4 July) for an evening of connections and conversation. One of the guests was Cambridge Network's President, Vice-Chancellor of the University of Cambridge, Professor Stephen Toope, who noted the Network's extraordinary success in helping Cambridge business.
Cambridge Network is inclusive by design and works with organisations large and small, helping to bring people together in the business and academic communities.  We really appreciate this unusual contribution and wish it success as it continues to thrive.
Earlier in the week, Cambridge Network's Recruitment Evening on Tuesday (2 July) saw jobseekers clamouring to try out the innovative wireless virtual reality (VR) technology showcased by headline sponsor DisplayLink. Lewis Turner, Recruitment Manager, commented:
We had a great evening at Cambridge Network Career's fair last night.

We had a great opportunity not only to demonstrate an interesting use case for our technology, but more importantly a chance to give an insight to potential candidates on how DisplayLink collaborates with interviewees throughout our recruitment process and how we subsequently treat them as colleagues.
Recruitment partner for the event, SoCode, also deemed the evening a great success.
We were inundated with strong and suitable candidates for a large number of our technology requirements, the team said.

We are optimistic that we will make several placements over the coming weeks from the candidates we met over the course of the evening...This was without doubt the best careers event we have attended.
Now the Network seeks employer organisations as sponsors for its next recruitment event, set for Friday 13 September.
Claire Angus, who heads the Network's Recruitment Gateway, says:
As always, this event will be free to candidates, and we are looking for recruiting companies who may want to sponsor the event, including a headline sponsor.

We have a solid track record of delivering quality candidates to organisations looking for talent, so this is an opportunity not to be missed. Please contact me if you're interested in getting involved.
The Network's team remains busy through the summer with numerous training courses and peer learning sessions and in planning business lectures, breakfast networking and recruitment events for the coming months.
If your company is not a member please join at https://www.cambridgenetwork.co.uk/membership or ask about joining in with these sorts of events at enquiry@cambridgenetwork.co.uk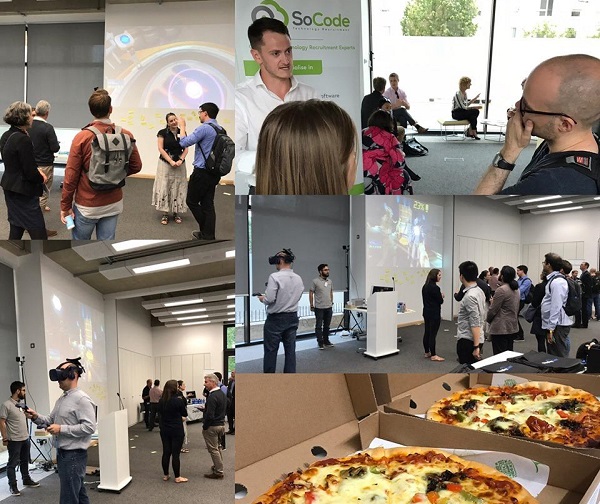 Interactive talks, technology demonstrations, lots of conversatons, plus beer and pizza at Cambridge Network's latest recruitment event